Miss Wickware is a history teacher at Langdon Middle School in Phoenix, Arizona, but the sweet old lady is not exactly what she appears to be. Students with attitude problems and a lack of historical perspective can suddenly find themselves sent back through time to face a famous historical figure they coincidentally need to report about in Miss Wickware's history class.
Author Penny Estelle addresses a curious question in these short novellas. How would spoiled 21st Century teens sent back through time survive the difficulties of early 14th Century Switzerland, Colonial, Antebellum or late 19th Century life?  She does an amazing job answering that question in her short story compilation, The Wickware Sagas. 
Book 1: Billy Cooper's Awesome Nightmare
Billy Cooper has a full weekend of baseball, movies, and fishing, but 7th grade History teacher, Miss Wickware, has more cerebral plans in mind. Her students have to present a short oral report on a famous historical figure drawn from a hat. Billy picks William Tell. Who is William Tell?
In Penny Estelle's short novella, Billy Cooper's Awesome Nightmare, Billy finds out who William Tell was with hands on experience as the young teen is transported back in time to 14th Century Switzerland.
With an easy-to-read writing style and a sense of humor to boot, Estelle brings the legendary Tell to life in a way that makes learning history fun.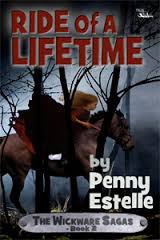 Book 2: Ride of a Lifetime
Jim Abernathy is the new kid at Langdon Middle School. On his own due to the recent death of his mother and a busy father, Jim lashes out at others making him Langdon's newest bully. Protective of her students, Miss Wickware won't have any of Jim's surly attitudes.
When Wickware's kids draw historical subjects out of a box and present oral reports, Jim reaches in and pulls Sybil Ludington. "Great, another seamstress!"
Jim will soon learn first hand that Sybil was far from that. Mysteriously thrown back to the Revolutionary War, Jim meets Ludington and from her example uncovers the way to becoming a boy of integrity and honor.
Book 3: Flash to the Past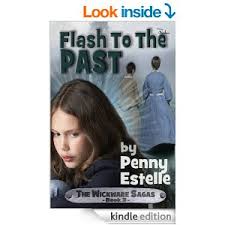 Kristy Sawyer is Mrs. Wickware's number one seventh grade snob. Kristy's Monday morning starts off poorly when Ms. Plumb sends her to see Principal DeWitt for talking during the Pledge of Allegiance. Late for Mrs. Wickware's history class, she is the last to pull a name from the box to present an oral report about Molly Pitcher. (Who's dat?) Fortunately for Kristy, she is paired with super smart Larry Peables, a new kid promoted up from 6th grade. Kristy and her friends affectionately refer to him as "Larry the fairy," or "Geekville."
After school, Kristy tries to persuade Larry to do the research and she'll present the information to the class. Larry won't have any part of that con when suddenly the duo finds themselves in Revolutionary War era garb hiding from British soldiers.
Flash to the Past is a wonderful vehicle in which Estelle magically transforms a snooty seventh grader with little respect for her country into a patriot and mensch.
Book 4: Bumped Back in Time

Langdon Middle School History teacher, Miss Wickware makes history come alive for her students in unexpected ways. Sammy Brown, winner of the junior sailing regatta, dislikes history, but adores her teacher. Until, that is, she has to produce an oral report in two days on Francis Scott Key. Now who the heck was that dude?
Sammy Brown finds herself in Baltimore, Maryland during the War of 1812. She meets such memorable historical figures as Dr. William Beanes, President James Madison, British General Robert Ross, and of course, Francis Scott Key. Sammy gets to use her knowledge of sailboats to help out Mr. Key and perhaps influence the fledgling poet.
What's Next?
On my "Books Must Read" list is Riches To Rags, book 5 of the Wickware Sagas, a tale about a rich kid transported back to 1875 New York City and forced to board the Orphan Train, the largest children's migration in history. Stay posted for this future review.
I taught reading to middle school children for 28 years. If I were still in the classroom, Penny Estelle's books would be on my classroom bookshelves. This is one writer who knows how to captivate her audience and make history fun.
About the Author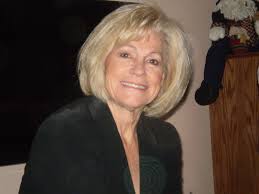 Penny Estelle spent the first twenty-one years of her adult life as an elementary school secretary. When she retired and moved to a fifty-four acre ranch in Arizona with her husband, she decided to take those experiences and write stories kids and adults could enjoy. Besides The Wickware Saga books, other works to her credit include Hike up Devil's Mountain, At What Price? and Dugan's Creek.