Holiday shopping is right around the corner. Are you really looking forward to spending hours fighting for a parking spot or waiting in long checkout lines at Macy's, Sears, or Best Buy? If you want to avoid the hassles, think about buying your favorite child a book this year. You will want your book choice to entertain as well as educate the young boy or girl you have in mind.(Links are provided so all you have to do is click and purchase without leaving the comfort of your home.)
First, you'll need to find a book at the child's readability level. This can be achieved through a simple exercise. Have the child read the first few pages of one of his schoolbooks. If he is in 5th grade, the book is written at the fifth grade level. As the child reads a page out loud, count her errors. If there are more than five mistakes made per page, find a book at a lower reading level. If no errors were made, choose a book at a higher readability level.
You'll also want to know your child's interests. Does he like sports, biographies, or perhaps science fiction? Does she enjoy high school romance stories or perhaps books on science? You'll find all of these books and more on the SCBWI 2017 Recommended Reading List. SCBWI is an international professional organization for writers and illustrators of children's literature. The 2017 book list shows hundreds of picture, middle grade, and young adult (YA) books for children at any age or reading level. It's a wonderful guide to find books to engage readers with a plethora of interests.
The authors featured on the SCBWI 2017 Reading List are published English language authors of front list (recently published) and backlist (been on the market for awhile) titles. The authors are from every state of the Union, Canada, Australia, and the UK.
There are reading lists with books written by authors from the Atlantic States, Australia, the Mid-South and more.The following books are Pop's choices from the California/Hawaii list:
Pre-K Picture Books
Author: Susan B. Katz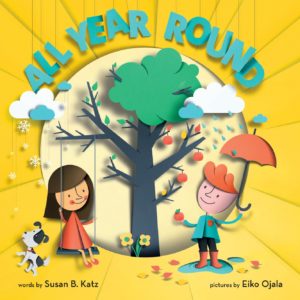 Illustrator: Eiko Ojala
Price: Paper: $7.45 Digital: $10.99
All Year Round teaches 3-5 year olds about the world of shapes and the months of the year. Circle round, ready to roll. Add two sticks, a carrot and coal. (January)
A sporty diamond, player at bat. Bases loaded, tilt your hat. (June)
Triangle treats-pumpkin, peach. Want some pie? Excuse my reach! (November)
Author Susan B. Katz wrote the poetic text while debut illustrator Eiko Ojala's cut-paper artwork brings the months and their shapes to life. Bold colors, adorable characters, and lyrical text are fused together perfectly in this truly creative look at the world around us.
Early Readers Grades 1-2
Author: Kirsten W. Larson
Price: Paper-$9.99  
Our world is filled with robots. Readers can explore the roles robots play from helping us in the hospital, at home, and the competitions of robot builders. Take a sneak peek into the future of robotics in our world! A photo-illustrated book for elementary readers about robots in space. Describes why robots are better suited for the perils and risks of space travel, the data they are able to send back to Earth, and the information we have learned about space. The book describes the history of sending robotic machines into outer space, some current missions on Mars and following comets, and the future applications robotic technology may have. Includes Q&A feature, glossary, index, and further resources.
Grades 3-5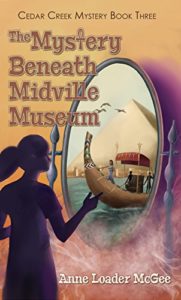 The Mystery Beneath Midville Museum
Author: Anne Loader McGee
Price: Paper- $3.94 Digital- $2.99
A statue that moves…a restless mummy…a talking scarab. Strange things happen after the arrival of an ancient Egyptian exhibit from Cairo. This novel has non-stop action and paranormal intrigue that all lovers of mystery will enjoy. Highly recommended.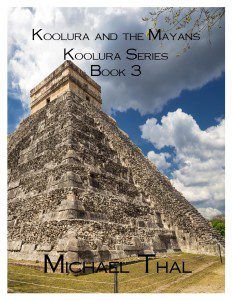 Grades 6-8
Author: Michael Thal
Price: Paper- $13.99 Digital-$2.99
Koolura and best friend Leila travel to Oaxaca, Mexico for a wedding. The girls visit a Mayan archeological site. There they are mysteriously transported back in time to the Mayan era.  Koolura and Leila are imprisoned, used as a sacrificial lamb to a Mayan god, become food fodder for a monstrous snake, and chased by alien teens bent on exploiting Koolura's gifts. During their thrilling exploits the girls wonder if the Aquarians are planning to take over Earth? And can they stop them in time? Bronze Medal Winner 2017 Reader's Favorite Award Contest, Second Place 2016 Royal Dragonfly Book Awards.
High School (Grades 9-12) 
 Eight Days on Planet Earth
Author: Cat Jordan
Price: Paper-$12.36 Digital: $9.99
On the hot summer day Matty Jones' dad leaves for good, a strange girl appears in the empty field next to the Jones farm—the very field in rural Pennsylvania where a spaceship supposedly landed fifty years ago. She is uniquely beautiful, sweet, and smart, and she tells Matty she's waiting for her spaceship to pick her up and return her to her home planet. Of course she is.
Matty has heard a million impossible UFO stories for each of his seventeen years: the conspiracy theories, the wild rumors, the crazy belief in life beyond the stars. When he was a kid, he and his dad searched the skies and studied the constellations. But all of that is behind him. Dad's gone—but now there's Priya. She must be crazy…right? 
As Matty unravels the mystery of the girl in the field, he realizes there is far more to her than he first imagined. And if he can learn to believe in what he can't see: the universe, aliens…love…then maybe the impossible is possible, after all.
Purchasing a book for a loved one during this holiday season is a gift of learning. The SCBWI Reading List 2017 includes enjoyable books children, teens, and adults can savor that are written by celebrated authors from all sections of the United States, the Middle East, India, Asia, Europe, and Canada. The majority of the books are in English with a select group written in Spanish. Happy holidays!