Freedom Is For The Birds is a book of animal fiction.  It is a riveting, heartwarming story about a family of red-tailed hawks.  Come enter the world of animals where you can forget about the stress of your job or school, the daily commutes in rush hour traffic, money and banking, insurance, transportation, and taxes.  In the world of animals, the only things you have to stress about are the safety of your family, and surviving to thrive in a world of humans.  Now that is something to worry about.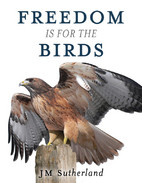 In the reality of today's society of extreme conflict and humanity's dangerous de-evolution of morals, Freedom Is For The Birds is also a human manifesto in disguise – because humanity truly needs a lesson on morals, manners, and compassion. 
 $1 from every sale is being donated to wildlife facilities to help with the medical expenses and food for injured/orphaned wildlife.
 Keep up-to-date: Website | Twitter | Facebook | Goodreads
About the Author
 JM Sutherland lives in Calgary, Canada and is a lifetime wildlife enthusiast. She is extremely passionate about animals and their rights, and giving animals a voice for freedom from abuse or being killed, their loss of habitat or being kidnapped for captivity. Sutherland's book, her tweets and her facebook page all reflect that passion.