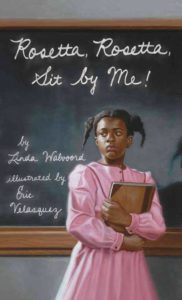 Rosetta Douglass was nine years old when her famous father enrolled her in a private school, Miss Tracy's Female Seminary in Rochester, New York for the 1848-49 school year. The child had never attended a public school because the Rochester schools wouldn't permit African Americans on their campuses. However two Quaker women from Albany had tutored Rosetta previously.
Linda Walvoord's biography, Rosetta, Rosetta Sit by Me! sheds light for young readers on the lives of Rosetta and Frederick Douglass showing how Frederick was the most famous runaway slave in pre-Civil War America. Her book tactfully illustrates the prejudice of the adult population, but the open mindedness of the young.
Rosetta, Rosetta Sit by Me! is a wonderful source of information for third through fifth grade students regarding the stigmatization and segregation of African Americans in mid-19th Century America. The book is easy to read and written in Rosetta's point of view. If you are a teacher or home schooling your kids, this is a great book to springboard discussion on slavery and prejudice. 
The biography concludes with "More About Frederick and Rosetta Douglass" providing readers with extra details about their lives. It also includes "Important Dates" and a list of its primary sources. The realistic illustrations by Eric Velasquez are in black and white. This non-fiction work is 80 pages long.
About the Author
Linda Walvoord Girard is the author of a dozen books for young readers that includes My Body is Private, At Daddy's on Saturdays, and Who is a Stranger and What Should I Do?
About the Illustrator
Not only does Eric Velazquez illustrate books, he's written two of his own—Grandma's Gift and Grandma's Records. Both are for younger readers and are available in Spanish.