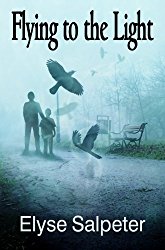 Michael is a 17-year-old high school student whose only worries are tests, girls, and playing with his 6-year-old deaf brother, Danny. All of that changes when his parents are kidnapped and he and Danny must run for their lives when they are accused of being spies and murderers.
Thus begins Elyse Salpeter's riveting YA novel, Flying to the Light. It's a fantasy about a young boy with a power that could become the gateway between Earth and Heaven. And there is one man who will stop at nothing to gain access to Danny's strange gift.
Samuel Herrington is a crazy corrupt biophysicist who once tried to buy his way into NATO. The billionaire intimidates nations with his secret laboratories where he has developed enough bio-chemicals to bring down the entire human race. This is the man that has kidnapped Michael and Danny's parents and will stop at nothing to get his hands on Danny.
Salpeter's exciting plot, well developed characters, and descriptive scenes makes Flying to the Light a book YA readers will have trouble breaking away from. And don't fret, Flying to the Fire, book two in the Flying to the Light Series is now available on Amazon.
About the Author
Elyse Salpeter is the author of eleven novels, all of which mixes fantasy with reality. For example, her 4-book Buddhist thriller series tells the story of a fearless young woman whose life is steeped in Buddhist spiritual mysteries as she discovers the world around her isn't what she believes it to be.
Besides writing, Salpeter enjoys cooking, jogging, and the company of her twins. You can learn more about her at her blog at www.elyesalpeter.wordpress.com.