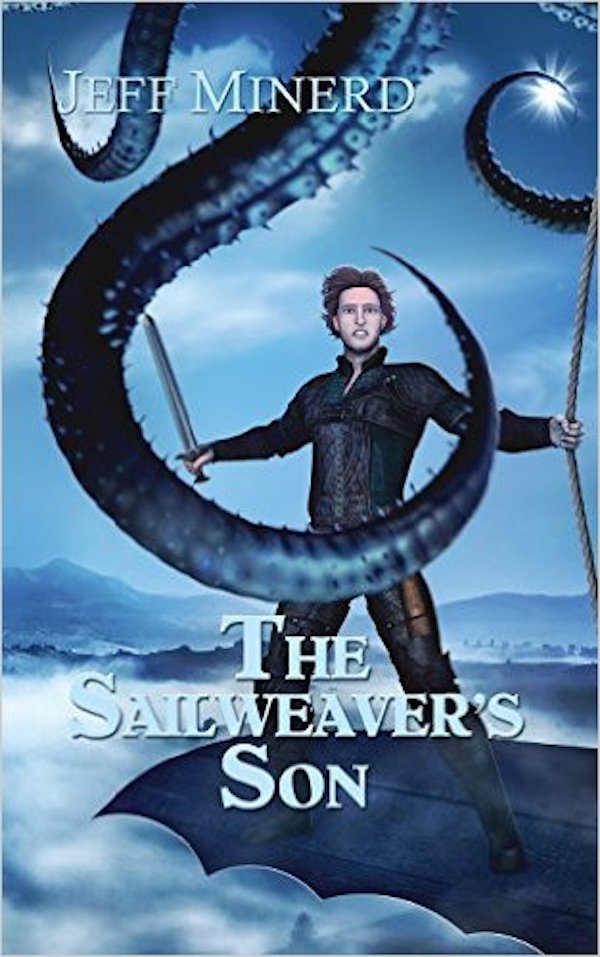 Tak Spinner, the 15-year-old son of Taktinius Spinner, the Royal Sailweaver, is a mischievous boy who enjoys sailing his airship, the Arrow, in and around the Kingdom of Spire testing the security of the Royal Fleet, to their continuous annoyance.
One day, Tak follows the Vigilance, commanded by Captain Adam Strake. Since Etherium, Tak's home world, has an extremely thick atmosphere, the humans on the planet developed airships, similar in design to our seafaring sailboats. But instead of traversing the oceans, these ships sail the skies.
On this fateful day, a huge bubble mysteriously emerges from the thick cloud layer, envelops the large battleship, and blows it up. Heroically, Tak rescues its sole survivor. Was this gas filled bubble a weapon tested by the hated Gublin, a race of intelligent creatures living in the planet's underworld?
Thus begins Jeff Minerd's coming of age novel, The Sailweaver's Son. Minerd does a wonderful job weaving his intricate plot as readers witness Tak growing from a spoiled child into a heroic young man.
The author does an amazing job of creating the fantasy world of Etherium where two distinct sentient species have evolved. Living in the underworld is the Gublins, a nightmarish looking people of high intelligence. Dwelling above the clouds on the planet's many mountaintops are the humans who have a technological equivalency of 19th Century Earth.
Tak's adventures take him from the Kingdom of Spire's capital city, Selestria, to a floating island, and the scary underground realm of the Gublins. Readers will be thrilled by Minerd's imagination as he spins his tale to a thrilling climax. YA readers will thoroughly enjoy Minerd's exciting fantasy.
About the Author
Living in Rochester, New York, Jeff Minerd is a science and medical writer for publications and organizations including the National Institutes of Health, MedPage Today, The Futurist magazine, and the Scientist Magazine. One of Minerd's short fiction pieces won the F. Scott Fitzgerald Short Story Competition. You can learn more about him on his website at http://www.jeffminerd.com.
Pop's rating: