I was at the American Airlines baggage claim waiting for Rico, an exchange student from a suburb of Zurich, Switzerland, to deplane. I checked my phone and noticed this text, "I'm here! Where are you?"
Oops! I didn't know American had two terminals at LAX. When I finally reached the newest one, Rico, age 16, stood by his luggage as I gave him a warm greeting.  
Rico was from rural Switzerland and during his short life never met a Jew or a deaf person; with me he got the double whammy! On his first weekend in California he met my family over Shabbat dinner, went to the Orthodox bar mitzvah of my nephew, and learned about the coming High Holidays of Rosh HaShanah and Yom Kippur from my five-year-old granddaughter. I taught him the American Sign Language alphabet and a few basic survival signs.
Rico was enrolled as a junior at Reseda High School. After a few weeks, I realized he wasn't being challenged and he really wanted a different school for his exchange experience.
EF High School Exchange Year, the U.S. leader in international cultural exchange programs for teens, was informed about Rico's concerns and promptly began working to find a better fit for him. Meanwhile, I wanted to ensure he got a good look at the Greater Los Angeles area before being reassigned to a new school, possibly in another region.
One weekend, we took the six-mile round-trip hike to the Hollywood sign. It was grueling for my four-year-old Shorkie, Scribble, so I had to carry her a bit of the way. When we finally reached the sign, Rico scrambled up a hill with Scribble at his heels. Both returned fifteen minutes later grinning/panting and with a few great photos logged into Rico's iPhone.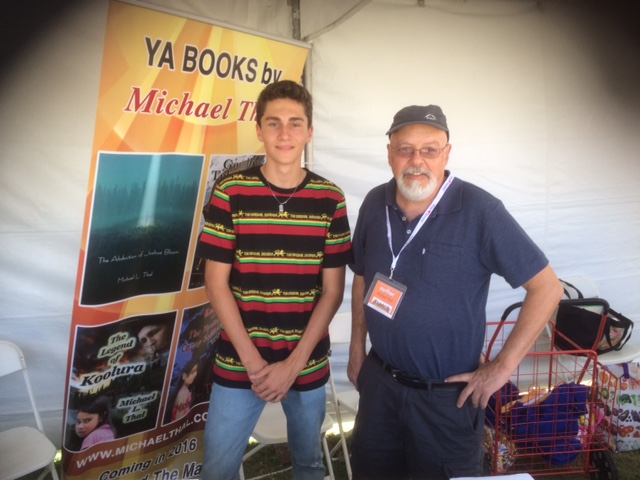 Since I had been invited to promote my books at the Orange County Children's Book Festival, Rico joined me passing out book markers promoting my novels–Goodbye Tchaikovsky, The Abduction of Joshua Bloom, and The Koolura Series.
On another occasion, Rico and I went to the Los Angeles County Fair at the Fairplex Grounds in Pamona and explored a farm, visited a petting zoo, strolled through many cultural exhibits, ate a greasy lunch, and rode a few wild rides.
Eventually the EF staff in Denver found Rico a new school and family in Northern California, about an hour's drive north of San Francisco. However, before his departure on the next leg of his exchange journey, Rico wanted to see downtown Los Angeles.
We woke up early that morning, drove to the Universal metro parking lot, and hustled into the bowels of the earth to catch a subway to Union Station. It was a short walk to Olvera Street, the oldest community in Los Angeles. Little Tokyo was a longer hike, and finally we gave in and took a bus to Chinatown where we had lunch at Yang Chow's—arguably the best Chinese restaurant west of Mott Street in New York City.
After lunch we grabbed a bus to the Bonaventure Hotel and took the elevator to the top floor. When we entered the restaurant overlooking the city, Rico gasped. From one angle, skyscrapers filled the horizon, while from another he could see the Hollywood sign we had visited months ago. Naturally, Rico took scores of pictures. Mission accomplished!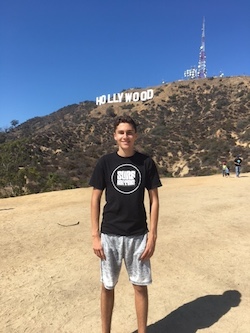 I enjoyed Rico's three-month stay immensely. He was very well behaved, earned excellent grades at school, and was wonderful company. During his visit with me, Rico learned a lot about American society—with the added benefits of Jewish and Deaf cultures. We soon discovered that he understood some of the Yiddish words I used because of the language's German roots.
Rico also shared with me his life in Switzerland. I met his parents via FaceTime, and communicated with his grandmother through snail-mail letters. His family encouraged me to visit them in Switzerland and assured me I would always have a place to stay in their home.
If you would like to find out more about hosting a teen from Europe or Asia feel free to contact EF High School Exchange Year at Michael.thal@efexchangeyear.org. It's sure to be an experience you'll fondly remember for years to come.