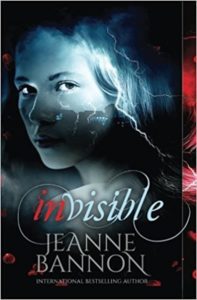 We live in an age where people are judged by their appearance and not the content of their character. Author Jeanne Bannon understands the problem and its effects on teens. So this talented writer wrote Invisible.
 Lola Savullo is a high school senior confronted with a multitude of problems. First, she's very tall and fat, she thinks she's ugly, and she can't seem to fit in anywhere, not even in her own family. Her best friend, Charlie Menardi, is a lesbian, and her Grandma Rose is the only family member she can relate to. Then, one day while being tormented and beaten by the school bully, Nino Campese, Lola disappears.
Bannon writes an amazing tale for her YA audience about a young woman opening her eyes to who she is and learning to love herself. Through realistic dialogue and emotional depth of writing, Bannon understands the pulse of young people with a deep knowledge of what it feels like to be different. As you pace through the pages be prepared to laugh out loud on one page and sob on another.
Invisible uses Lola's super power of invisibility as a platform to show readers that self-acceptance is the key to happiness. The author does it with a gifted writing style that will keep you riveted to the book from first to last page.
Oh, and one word of caution. Make sure you read this book with a box of tissues by your side. Highly recommended.
About the Author

Jeanne Bannon has worked in the publishing industry for over twenty-five years as professional editor and author. She writes in the genres of Contemporary Romance and Young Adult. All her work includes a touch of the paranormal! Currently, she's working on the third book in the Beautiful Monster series as well a contemporary romance titled 'Last Chances'.
Jeanne lives in Caledon, Ontario, Canada with her daughters and husband. She adores her constant companion, Lila, a sweet, affectionate Boston Terrier who never leaves her side.
Come visit her website www.jeannebannon.com or join her ever-growing newsletter: http://www.subscribepage.com/g8i7q1
Pop's Rating: