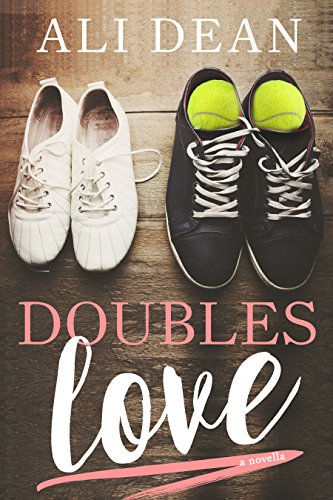 Mackenzie Bell is Hillcrest High's top female tennis star. When matched up against Tabor Julian, one of the school's best jocks, Mac wins.
At home, Mac isn't such a star with her mother, Delilah, who tends to ignore her daughter for the affections of male suitors. When introduced to Roger Carmichael, Mac becomes livid, because this new boyfriend will soon become husband number five and he hasn't even gotten a divorce from his wife.
To avoid the drama in her home, Mac escapes to neighbor and best friend Emma's home. Emma's brother, Jesse, a senior at Hillcrest, is also the school's top male tennis player and the only boy Mackenzie desire. 
Jesse, Emma, and Mackenzie met when they were very young children. As the years passed, their friendship blossomed. Jesse and Mac always felt a strong attraction for each other, but Mac put up walls to avoid the eventual break-up and losing the only family she ever had.
Ali Dean develops very realistic characters in her novella, Doubles Love. The author probes deeply into the minds of her characters through superbly written dialogue and Mackenzie's inner thoughts as the tennis star tells her story.
Readers of YA romance will enjoy this tender yarn of young love as it blooms into a tale they'll long remember.
About the Author
Ali Dean, the author of ten novels, lives in Colorado with her husband and two children. She writes coming of age fiction,sports fiction,and young/new adult contemporary romance. In addition to reading and writing, she loves the outdoors- everything from marathon training and biking to snowboarding and skiing.