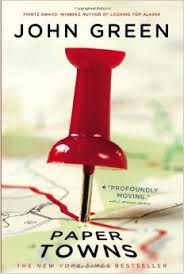 Quentin Jacobsen, his friends call him "Q", is a senior at an Orlando, Florida high school. Since he can remember, he's been in love with Margo Roth Spiegelman, his next-door neighbor. At a young age, while biking near a neighborhood park the children found the dead body of an apparent suicide—an event that created an eternal bond between the two.
Now at 17, after years of estrangement, Margo pops up at Q's window one night to seek revenge on a few disloyal "friends" and wants Quentin to join her. The duo commit pranks against the boy who cheated on Margo, the girl he cheated with, and end the evening by sneaking into SeaWorld Orlando.
Day's prior to graduation, Margo mysteriously disappears and Q is worried that maybe she killed herself, like the man they saw so many years ago.
Thus begins John Green's bestselling novel, Paper Towns. The author does a marvelous job of exploring teen emotions, point of view, and the coming of age conundrum most teens experience upon completing high school and embarking upon their college careers.
Written in the first person, readers get deeply inside Quentin's head. Most of the teen's ruminations seem plausible, however I felt the author may have gone too deep and perhaps lose a few of his teen readers.
The Margo character, a child of parental verbal abuse, devised brilliant and elaborate pranks. Quentin's parents, being psychologists, raised a more levelheaded child. It was interesting to see how Green had his two protagonists relate to each other.
Paper Towns is a wonderful YA novel for older teens and adults with laugh-out-loud humor, a compelling plot, and an edgy road trip that everyone can relate to.
About the Author
John Green is an American author of YA fiction. In 2014 he was included in Time magazine's list of the 100 most influential people in the world. With his brother Hank, Green has created eleven online series teaching literature, history, and science. He lives in Indianapolis with his wife Sarah and their two children.