Chris Grafil, a graduate of DeVry University, Pomona and a field engineer at Retina Institute of California by day, has an interesting dream. He wants to be a funny man like George Carlin, Eddie Murphy, or Chris Tucker. Grafil says, "When I was a tween and teen I seemed to always make my friends laugh by making an observation, then saying something clever. I almost inevitably got at least a chuckle." Grafil never really expected to get on a stage and perform standup.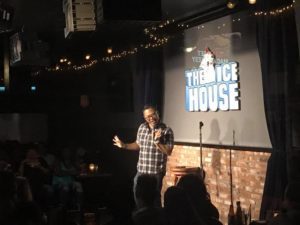 One day, while surfing the Internet, Grafil found an ad on the app, Living Social, regarding a six-week comedy class for $100. What's a C note for a dream? Right? So Chris took the class and was hooked. He says, "I was afraid for so many years, because of my insecurities, not being able to hear the audience, the hecklers, but now on this journey, I realize that is such a small part of the show. I've only been heckled a few times, and it's not as scary as I thought it would be."
Since taking the comedy class, Chris has performed at the Comic Cure in Los Angeles, The Ice House in Pasadena, and Flappers in Burbank. After a performance, Grafil tends to gravitate away from his audience preferring seclusion. "It's not because I'm shy, it's because my hearing is really bad."
Grafil says, "I was around 17 years old when I started asking people to repeat themselves. I was about 34 when I finally caved and got hearing aids. My left ear, as measured by audiologists, has a severe loss and my right ear has a mild loss. I think the loss may have been due to listening to loud music or perhaps it's hereditary."
Like many hard-of-hearing (HOH) people, Grafil does better in one-on-one situations. It takes a lot of effort to understand people when you don't hear them well. Grafil say, "People sometimes ask me, 'What are you doing on the weekend?' I'll often say nothing, and they'll feel sorry for me." But Grafil often embraces seclusion so he doesn't need to wear his hearing aids.
Years ago Chris Grafil looked into a support group for HOH people. In 2011 he discovered the Hearing Loss Association of America, Los Angeles Chapter (HLAA-LA). Grafil says, "When I first got my hearing aids, I needed a support system, because I didn't know how to cope with having hearing aids, and what my friends would say, and what my coworkers would say, and what I need to tell them." He learned all of this at HLAA-LA's monthly meetings Saturday morning held in a conference room at the Huntington Memorial Hospital.
As a comic, Grafil would love to entertain his HOH friends, but they can't comprehend the punch lines. Grafil says, "I want to offer a service that allows HOH to just sit back, relax, and enjoy the comedy show. I often listen to other comics in the rear of the venue observing the audience. I've witnessed a few shows where either the loop system wasn't strong enough or audience members missed the joke. It breaks my heart that we don't get to experience the same joy, the in the moment, in real-time experience of laughing with an audience, and not sitting there clueless."
People who wear hearing aids are helped by a looped sound system. According to the Hearing Loss Association of America, a hearing loop is a wire that circles a room and is connected to a sound system. The loop transmits the sound electromagnetically. The electromagnetic signal is then picked up by the telecoil in the hearing aid or cochlear implant. Hearing loops are also called audio-induction loops, audio loops, or loops.
Grafil says, "I'd like to do all my shows looped. It's pretty easy to loop most of the shows, but one size does not fit all. Some people with hearing loss require captioning or even sign language. Captioning requires a trained professional to caption my performance as I speak. And a sign language interpreter needs to be hired to translate my act. That all requires a lot more money and planning, but I'll eventually get there."
Chris Grafil knows not to quit the day job, but he has a vision and as he slowly pursues it, he'll become one of the few comics in America to reach an audience that currently misses all the punch lines.