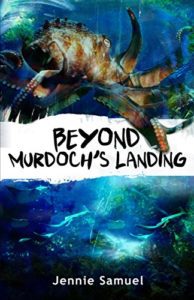 Jennie Samuel's Beyond the Pond takes readers to a Texas backyard pond where we are introduced to the pond's animal life and an ancient Cedar tree named Thalia. In this first book, Olivia, a new fish to the pond, reaches the mythical springs and coerces the great Artesia, the spirit of all water covering the Earth, to save Thalia's life.
In the second Beyond book, Beyond Murdoch's Landing, we are reintroduced to Murdoch, a Leviathan abandoned by his family to be cared for by a Sturgeon family in a fresh water environment, for Murdoch had become an air breather and was allergic to salt water.
Three stories converge as one in this second Beyond novel. First, after 300 years, Murdoch escapes from his Texas spring caves, to return to the ocean, find his parents, and uncover the reasons why he was deserted when he was a baby calf.
Next we encounter a terrible car accident in which Brady Dawson and his mother are badly hurt. As first responders come to their aid, their dog, Sundance, is taken away in a van to a junkyard to die. Fortunately for the yellow Lab mix, he is saved by a homeless Vietnam era Navy Corpsman, Ted Harrison, suffering from Post-Traumatic Stress Disorder (PTSD).
Photographer Colin Innes who grew up hearing stories about a "Waterman" that saved his great grandmother's life. (This story is told in Beyond the Pond.) Since he heard reports of strange sea creatures off the coast of Alaska, he hired a helicopter pilot, Buck Forrester, to fly him around Prince William Sound for shots of glaciers and fjords. What he saw was an amazing creature that inadvertently caused the helicopter to crash. Innes would spend a thread of this book searching for the "Waterman" and the springs his family talked about, near his family's Texas ancestral home, the same location of the pond and the oak tree named Thalia. 
Throughout Beyond Murdoch's Landing, Samuel's writing style is fluid, descriptive and includes fantasy animals—a horse, crow, dog, sperm whale, octopus, oak tree and more—who communicate telepathically. I did find her use of Christian dogma a bit annoying as she attempted to proselytize her faith throughout the book.
However, the plot was fun to follow as readers uncover the fate of Murdoch, the separation of Brady from his dog Sundance, and the finding of the miraculous springs.

About the Author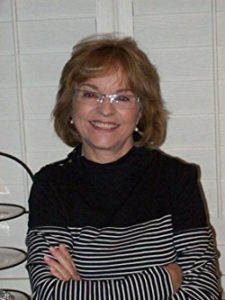 Jennie Samuel investigated insurance claims and wrote detailed reports for 25 years. When she retired in 2013, Samuel decided to leap from fact to fiction in her debut Christian novel, Beyond The Pond. Inspired by the events in her own backyard pond, Jennie realized she already had her characters – she just gave them voices on a page. Born and raised in Los Angeles, California, by Southern Baptist parents, Jennie has incorporated her Christian faith into the storyline of her books.