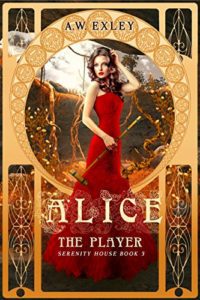 Alice the Player is the third novel in the Serenity House series by A.W. Exley. This series is a sequential one meaning the author has connected the plots of her novels chronologically so readers are best served beginning with book one. In this case that's Ella the Slayer (read Pop's review).
Alice the Player picks up where Ella the Slayer ended. In both novels Ella tells her story with a few sections of the Player story set aside for Alice to let readers know her take on unraveling events.
As we learned in Ella the Slayer, Ella is in love with Seth DeMage, the Duke of Leithfield, who is also a high ranking officer in the Queen's army, and in charge of taking control of the vermin in Somerset and the surrounding county.
The vermin are zombies that rose after death caused by the flu pandemic of 1918. Though Ella began as her community's slayer, she is now working for Seth to locate and destroy vermin nests before they can lay claim to more English lives.
The hive queen wants to destroy Ella in a torturous manner. She orders her undead troops to abduct the girl, but they grab Ella's best friend, Alice, by mistake. Alice is the pawn in this game of chess that will keep readers riveted to the subtle plot twists and turns.
Author A.W. Exley has recreated Lewis Carroll's Alice in Wonderland into a hell controlled by a hive queen rather than the Queen of Hearts. Her setting and character descriptions reveal a darkness that would make Carroll squirm and may affect your dreams, so beware.
As the action picks up only Ella has the opportunity to save Alice, but at what price? And will the Duke be available to watch her back? Thus far, the Serenity House series has kept this reader's interest with a huge itch to read the final chapter, Rory the Sleeper.
About the Author 
Anita Exley has always enjoyed the reading and writing process. In high school she found refuge in the school library making friends with thousands of fictional characters. In college she studied accounting, but preferred spending her free time learning hieroglyphics. Today, Exley writes fantasy historical novels with heart from her home in New Zealand. You can visit her on her website at http://awexley.com.