The rise in popularity of e-books is rising. Back in 2012 24% of the adult population read an e-book. Today that has risen to 28%.
It gets better. About 42% of the adult population owns a tablet computer. According to the Pew Research Center more than 42% of adults own a tablet computer. E-book reading devices like a Kindle, Nook, or other handheld device capable of reading an e-book is owned by 50% of all Americans. 
So what is the best e-book reader on the market? Below are the facts. You be the judge.
Amazon Kindle Voyage: The Kindle Voyage is Amazon's best e-reader. It has a light touchscreen, excellent resolution and contrast with built-in lighting, a flush glass front and dedicated page-turn buttons. If you want a case to protect your investment, you'll need to pay extra. Cost: $199
Amazon Kindle Paperwhite: The Kindle Paperwhite has a fast processor, responsive touch screen with a well-integrated light that displays evenly across the screen. The Kindle Voyage isn't a huge upgrade over the Paperwhite, so for the money, this Kindle is the way to go. Cost: $99
Barnes & Noble Nook GlowLight: The design of the GlowLight is lighter than the Kindle Paperwhite. It comes with 4GB of internal memory and there's a ring of silicone rubber around the frame to protect the device when you get clumsy and drop it. The GlowLight finish can show some dirt from your hands. Though the content found at Barnes & Noble is good, it can't match the book selection on Amazon. Cost: $109.99
Amazon Kindle: This Kindle is very affordable with a Wi-Fi, touchscreen, and access to Amazon's huge library of e-books. The capacity of this Kindle is 4GB with a zippy processor. The battery life is less than Paperwhite and Voyage and it does not have an integrated light. Accessories like a charger and case cost extra. Cost: $59.00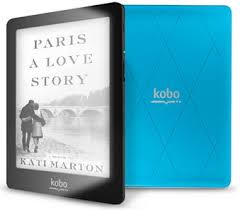 Kobo Glo: The Kobo Glo has Wi-Fi and an impressive front-lit, high-resolution e-ink display with a touch-screen interface. It even boasts an expansion slot for additional memory. Unlike the Nook or a Kindle, this device supports EPUB files, and is compatible with any e-book store that uses the Adobe DRM format. The problem with Kobo Glo is that the e-book selection isn't as great as Amazon or Barnes & Noble. Cost: $129.99
There you have it, the five best devices on the market today to read digital books. Take your pick and start reading.