When Ladybug receives an invitation to a picnic, she prepares a basket of treats to share and sets off into the garden. On her way, Ladybug notices several bugs in need. She happily stops to help them, but worries she won't make it in time. When Ladybug finally reaches the picnic, she discovers a sweet surprise!
About the Author/Illustrator
Anabella and Sofia Schofield are sixteen-year-old twin sisters and best friends. When asked in preschool what they wanted to be when they grew up, both responded, "A ladybug!" Their goals have changed, but they're happy to be writing about a ladybug now! Ladybug's Garden began as a project the authors wrote and illustrated at age thirteen. In their spare time, Anabella and Sofia enjoy reading, writing, watching movies, photography, music, and art.
The Schofield twins agreed to an interview in which they discussed their new book, advice to other teen authors, and about being twins.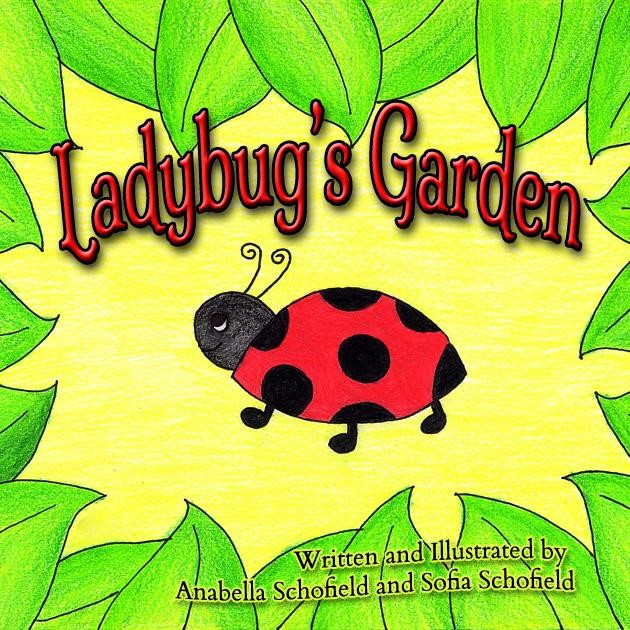 I like the theme of your book: it's not the destination, but the journey that really counts. What motivated you to write about a ladybug? Why do you believe helping others is an important theme? Is this how you live your lives? What have you done in your personal lives, recently, reflecting Ladybug's attitude?
Sofia: When coming up with the idea for Ladybug's Garden, we thought about things we would have liked when we were younger. Something we enjoyed was gardening (and looking for ladybugs), which was one reason we thought of writing about a ladybug. I believe helping others is important because everyone has a great capacity to do good and use their talents to bless the lives of others. I try to live my life in this way, since I hope to have a positive impact in the things I do.
Anabella: From a very young age, Sofia and I have always loved reading. As she mentioned, we came up with the idea of Ladybug's Garden because we would have loved to read it when we were little. When developing our main character, we wanted to inspire our readers to look for opportunities to help others. Being a friend to all is something that I value and do my best to exemplify. Whether you help someone out in a significant way or brighten their day with a smile, I believe kindness makes the world more beautiful.
Who is the illustrator? Who's the writer? Who's idea was it for the book?
Anabella & Sofia: We're both the illustrators and writers! After we came up with a character together, we started writing the first few lines of the story. Then we developed the plot and wrote the book together. We both worked on designing, drawing, and adding details to the illustrations as well.
Did you learn anything from writing your book? What was it?
Sofia: I've learned a lot while writing Ladybug's Garden! This experience has helped me learn about developing a plot and characters, and persevering with a project. I've had the opportunity to reach out to others and cultivate my networking skills as well.  
Anabella: One thing I have learned from my experiences so far with writing and illustrating a children's book is that it takes time. Sofia and I created our book three years ago, and have been working to get it published since then. Now that it is finally published, I've discovered that it takes a lot of effort to build a following and to have a successful book launch.
Do you have any other book ideas in the fire?
Anabella & Sofia: Creating Ladybug's Garden was and continues to be a fun and rewarding learning experience, so we'd love to continue writing together. We'll be thinking about what to do for our next project!! 🙂
What advice would you give other teen authors?
Anabella: Keep persevering! Since elementary school, I've dreamed about being a published author. It's so rewarding to fulfill a dream! I'd like other teen authors to know that it is definitely worth the effort. Set goals for yourself and keep achieving them until your dream becomes reality!
Sofia: Pursue ideas that are enjoyable and interesting to you. The amount of effort you put into your work will help you get more out of it. Be confident in what you've created, and don't be afraid to share it. As we've learned, you never know what might happen!
I have a twin brother. Unlike you, we're fraternal twins, but there is that strong bond that has remained with us throughout our lives. Explain your bond and how it keeps you close to each other.
Anabella & Sofia: We have a strong bond as twin sisters; we're best friends, enjoy similar things, and spend a lot of time together. Having similar interests has strengthened our bond since we can collaborate to make something better than we could have on our own.
Is there anything else you'd like to say to your readers I neglected to ask?
Anabella & Sofia: One of the most rewarding aspects of writing a book is the feedback from readers. We love to hear that people love our book, it makes us so happy! We'd also like to thank everyone who has been supportive of us in writing Ladybug's Garden! 🙂
Sofia and Anabella, thanks for coming onto Pop's Blog. When you're ready to promote your next book, just let us know.