It's that time of year again to think about a gift for a grad and of course dad. The best gift I can think of for anyone who loves to read is a Kindle. And the best place to buy one is at Amazon, Best Buy, or most retailers like Fry's, Kmart, and even Staples.
Kindle comes in several varieties to choose from. Here are three: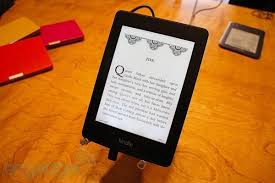 Amazon Kindle Paperwhite
At $119, this Kindle has a 6-inch display with a patented built in light. It's size is 6.7" x 4.6" x .36" with a weight of 7.4 ounces and a 4 GB storage space. Amazon offers free cloud storage for all Amazon content. The battery life of this e-book reader is eight weeks, and it only takes four hours to completely charge it up.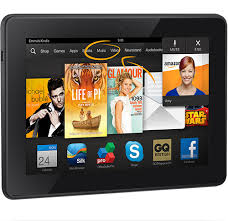 Kindle Fire HDX
This Kindle can run from as high as $379 to a low of $99 depending on the version you are looking for. The Kindle Fire weighs 13.2 ounces. It boasts of an 8 MP rear-facing camera with LED flash, plus a front facing camera for Skype video calls and more. Its 8.9" screen has a resolution of 2560 x 1600, the highest of any Kindle Fire tablet. The HDX display features over 4 million pixels projecting images that seem alive. Every Kindle Fire has a web browser and email app. And of course you can download any Amazon e-book in seconds as well as listen to audio books or music.
Fire HD 6 Kids Edition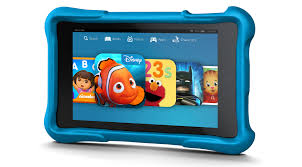 This Kindle, even though it's for a child, is not a toy. At $149, it's a fully functional Kindle that comes in black with a blue, green or pink kid-proof case. (And if your kid does break it, Amazon will replace it FREE.) The Kindle Kids Edition can hold 8 GB or 16 GB of storage capacity with a 6" or 7" display. And don't worry about a child accessing adult material. They can only download titles age appropriate that the parent Okays.
The LearnFirst and BedTime features can be pre-programmed by a parent. Moms and Dads can block access to games and cartoons until after educational goals are met; and FreeTime can be set.
What People Think
I bought a Kindle because all of my books—Goodbye Tchaikovsky, The Abduction of Joshua Bloom, The Legend of Koolura, and Koolura and the Mystery at Camp Saddleback—are sold in print and as Kindle downloads. I also purchase Kindle YA books to review for my website's blog—www.michaelthal.com/blog/.
However, there's another reason I love my Kindle. I can increase font size. While working out at the gym on a freestyle elliptical trainer I read my Kindle. The exercise session zooms by and I'm entertained by the stories I read.
I'm not the only one who loves his Kindle. Writer Jeff Goins says, "Kindle makes it easy to focus on reading." He also likes the touch screen capability.
Author Ruth Soukup says, "My Kindle library is portable." Since she's a fast reader, she can download several books onto her Kindle to read on the plane rather than lugging around heavy paper books. She also admits that there are thousands of free books available on Kindle, and paid books are a $3-$4 difference from the print variety.
Kindle was initially designed as an e-book reader, but it has evolved to greater heights. It can provide hours of fun playing games, help provide a child educational enrichment, and of course a superb reading experience.
A Kindle is the perfect gift for anyone from 5 to 95, and it's an investment I'm happy I made.