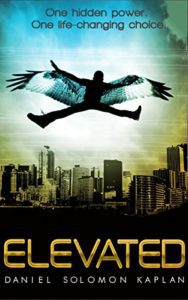 Daniel Solomon Kaplan wrote his YA science fiction novel, Elevated: A YA Sci-Fi Fantasy Superhero Series (Elevated Book #1), based on a premise: If you could have a super power, what would it be? Since life isn't that simple, and not all of us will fly, the characters in this book only hope for the best.
Elevation Day is when millions of kids, who just turned sixteen, like Rose Williams, have the opportunity to be zapped to uncover their hidden super power. Rose can't decide if having a power is what she really wants, for powers range from amazing to a nuisance.
Rose's friend, Elliott is introspective. He says, "I can't control which system I was born in. I can only control how I cope with it." Elliott believes this is his true power, and anything else is purely an illusion.
Rose eventually refuses to let GEMO, the government arm of the Elevated Program, zap her. Her father was declared an Unsound and forced into exile, and her mother has super hearing, which can be quite annoying. However, after Elliott's zap experience produces no tangible results, he's labeled a Basic. But when he becomes angry and touches Rose, he zaps her with a new found energy that turns Rose into a Scanner, a person with the ability of surveillance.
Rose decides to keep her ability secret, because who likes a peeping Tom? And if the government found out, she'd be drafted into the armed services or forced to do police work, and Rose wants to become a botanist. Since the authorities think Elliott is a dud, he too decides not to let anyone know he's a Catalyst, an Unsound power that could put him in prison for life.
Elevated is book one in Daniel Solomon Kaplan's new series. Rose is the central character telling her story in the first person. The novel follows her and her friends' decisions to become or not become elevated and the results of those decisions. There's also a government conspiracy lurking in the shadows Rose uncovers as she quietly investigates her father's mysterious death.
Elevated will keep most YA and sci-fi readers entranced until the very end; and the beginning of Book 2, Catalyst, that Pop said he may read real soon.
About the Author
Daniel Solomon Kaplan doesn't believe in writer's block. If he's struggling to write, he'll jot down even a bad idea until a new inspiration will alter his first thought. Originally a playwright, Kaplan became an author after much arm-twisting from his wife. He enjoys writing stories with fun characters and fantastical elements.