The Review
Grandpa Bernie's Bedtime Stories is comprised of twenty tales for very young children. Some stories, like "The Friendly Grasshopper," tell a tale about insects, frogs, and birds—animals in nature that are prey or predator that become best friends in Grandpa Bernie's world. In other stories like "Batter Up, Norman" a bear cub becomes the star hitter on a little boy's baseball team. In "Kangajump" a little girl adopts a crippled pony who is taught how to jump on her hind feet by a kangaroo and then amazes everyone by winning a race.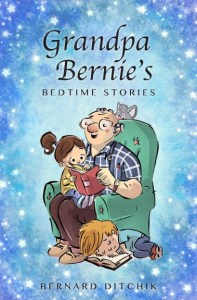 Other stories in Grandpa Bernie's Bedtime Stories teach a lesson. Take "It's Not So Bad to Be Me" for example. Sixth grader Corie is depressed because all the kids call her "shorty". She meets a turtle who bemoans being so slow yearning to be a deer who can run so fast. Corie also meets a squirrel who would prefer to be a fish because they don't have to work so hard during the fall when he's collecting and storing nuts for the winter. When Corie, the turtle, and the squirrel witness a hunter stalking a deer and a fisherman catching a fish they soon realize their freedom is more important than speed, a tough work schedule, or height. Corie understands, "It's not so bad to be me."
Some of the stories were silly, like "The Coyote Who Learned to Fly" and "The Happy Little Light Bulb." In one tale a little girl does a stunt on a high bar humanly impossible to accomplish.This reviewer also found the writing to be a bit amateurish, but most readers and their young listeners wouldn't realize this. As an e-book, Grandpa Bernie's Bedtime Stories may be a perfect collection of children's stories for the toddler in your life. It's definitely worth the $2.99 you pay for the download. The paperback sells for $9.99.
Author's Bio
I didn't begin my career as an author by writing stories. First, I was a storyteller. Let me explain. Many years ago, when our children were very young, I would sit on their beds at bedtime and tell them a story. Instead of reading a story written by someone else, I preferred to make up my own story right on the spot. They were stories about animals who learned to fly, children who talked to birds, alligators who were friends with elephants, and even one about a horse that learned to jump like a kangaroo. Our children loved them. So I made up a lot of stories. Then there was a long period of time when there was no one who wanted to listen to my stories because they had all grown up!
But then, something wonderful happened. We had our first grandchild—and I became Grandpa Bernie. One day, one of my daughters said, "Dad, you have so many stories. I think other children would like to hear them." That's when I became an author.
At the age of 93, I am still playing tennis (doubles only) five times a week in a 60+ league. I have been married 64 years to my wonderful wife, Faigie, had three children, and five grandchildren. I continue to sit in my favorite chair, with a large pad on my lap, and a pen in my hand, lean back, and let my imagination soar.