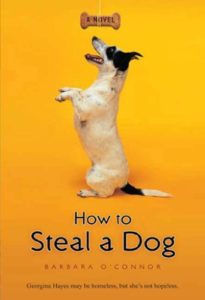 How to Steal a Dog is a heart wrenching novel about homelessness and its affects on two young children. Georgina Hayes is forced to live in a car with her mother and little brother Toby. Her father abandoned them, they were soon evicted from their home, and Mrs. Hayes had to scramble to find two jobs so she could save enough money for renting another apartment.
Formally, a good student, Georgina is now failing all her fifth grade classes, goes to school unkempt and exhausted, and is constantly worrying about what her friends think. Her focus is not on Girl Scouts, dressing up dolls, or completing homework assignments, but instead she is concerned with helping her mother raise the funds to get the family out of the car and into an apartment.
Author Barbara O'Connor narrates her novel in the first person through Georgina's eyes. One evening, from the side window of the car, Georgina sees a flyer tacked onto a telephone pole that reads: REWARD $500. Under that was a bug-eyed little dog with its tongue hanging out. The sign concludes with: HAVE YOU SEEN ME? MY NAME IS MITSY.
That was the moment Georgina had an epiphany. She would steal a dog from a rich family, wait for a sign to be posted with a reward, and then return the pooch for the prize money. She also keeps a diary of her actions for future homeless kids to use.
O'Connor does a brilliant job showing the harshness of homelessness on children and the lack of community support to help those children in need. How to Steal a Dog emphatically shows the need for our society to build a stronger social safety net so children like Georgina and Toby would never have to live through the harshness of this unfortunate reality in American life.
About the Author
Barbara O'Connor, an author from North Carolina, draws on her South Carolina roots to present her books with strong Southern settings and quirky characters. In addition to six Parents Choice Awards, Barbara's distinctions include School Library Journal Best Books, Kirkus Best Books, Bank Street College Best Books, and ALA Notables. Her novels, which include Wish, The Small Adventure of Popeye and Elvis, and The Fantastic Secret of Owen Jester, have been nominated for children's choice awards in 38 states. Barbara is a popular visiting author at schools and a frequent speaker at conferences around the country. She lives in Asheville, NC.