Seventh grader Dylan Jones knew all about the good life. His family had lots of money so Dylan got what he wanted. Even so, everyone liked the boy because he was a carefree and happy child.
Miss Wickware, Dylan's history teacher saw potential in the youth, too. He just needed a bit of education from the other side of the tracks. So when her class was studying about the post-Civil War period, she expected her students to prepare an oral report on a subject drawn from a box. Dylan picked the Orphan Train.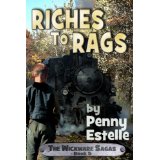 Between 1854-1929 thousands of children roamed the streets of New York in search of money, food, and shelter. In 1853 Charles Loring Brace, a young minister, was horrified by the conditions of these children and founded the Children's Aid Society to arrange trips, and raise money to relocate them to new homes in rural America.
Soon after drawing the topic, Dylan's mind opened to a train station in Pennsylvania Station in 1875 New York City.
Penny Estelle's Wickware Sagas always include an oral report to be given by one of Miss Wickware's Langdon Middle School students who could benefit from a time travel experience. Dylan's trip through time showed the young teen how it felt to be penniless and homeless.
Estelle does a good job at telling Dylan's story and the affect the Orphan Trains had on over 200,000 children who left East coast orphanages for a better life out West.
Riches to Rags is a perfect story for upper elementary and middle school youngsters, especially reluctant readers. The novella is a quick read that contains historical facts that these kids should learn about.
Highly recommended.

About the Author
Penny Estelle was an elementary school secretary for over two decades. Once retired, she decided to write stories about and for kids. Some of her favorites are Hike Up Devil's Mountain, A Float Down the Canal, and The Wickware Sagas, which are time travel stories including Billy Cooper's Awesome Nightmare, Ride of a Lifetime, and Bumped Back in Time. I've read the series and enjoyed it immensely.
Estelle lives on a 54-acre ranch in Arizona with her hubby. She's thinking about writing an erotic novel, but her husband forbids the prerequisite affairs needed for research. Go figure!