With kids about to exit schools by the droves, it's a good idea to keep them reading during the summer months. If children take a vacation from reading over the long hot summer their reading skills could fizzle. Studies have shown that students can lose up to three months of reading progress over the summer, and that loss has a cumulative, long-term effect. 
Reading a book series is a lot of fun for both adults and kids. After reading the first book in the series and you like it, there are other books with the same characters and familiar writing style. Authors have the opportunity to develop more complex characters and plots in a series, which helps capture the attention and interest of the readers encouraging them to read more.
There are two types of series. The first type is the Sequential Series. Here the author connects plots that happen chronologically. Consequently, readers should read the books in order beginning from book one. The Luna Chronicles by Marissa Meyer is an excellent example of this type of series.
The second type, the Non-sequential Series, does not involve succeeding plots. The characters and even the setting might be the same in all the books, but each book can be read independently and in any order. Anne McGee's Cedar Creek Mysteries is a wonderful Non-sequential Series.
Below are suggested series to read this summer. The first two are Sequential Series and the last two are Non-sequential Series.
1.  The Luna Chronicles by Marissa Meyer
Why you should read it? This is a series of six YA fantasy novels. Each book focuses in on an old fairy tale set on a futuristic world where humans, cyborgs, and androids coexist. Some of the fairy tales include Cinderella, Little Red Riding Hood, Rapunzel, and Snow White.
Interesting fact: A writing contest prompt dictated Meyer to set a fairy tale character in the future. One night she had an epiphany: Cinderella is a cyborg. The idea gave birth to the Lunar Chronicles.
    2. Uglies by Scott Westerfeld
Why you should read it? On their 16th birthday everyone goes through radical plastic surgery transforming them into a Pretty. The three books in this series follows non-conformist Tally who fights for the right to keep the only thing she can control; the ability to think for herself.
Interesting Fact: Westerfeld's books take on modern culture and our obsession with celebrity and beauty.
Cedar Creek Mysteries by Anne McGee
Why you should read it? The series centers on thirteen-year-old Mallory Gilmartin who has a penchant for finding trouble. Author Anne McGee says, "If you're into mysteries, especially ones that involve paranormal suspense, then this series with its ongoing characters is just what you need."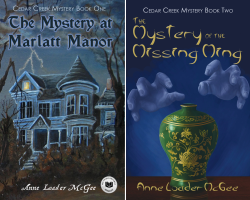 Interesting Fact: Each book in the series engages Mallory and her friends in some part of history. In The Mystery of Marlatt Manor the characters hunt a ghost in an old deserted "Victorian" mansion. In The Mystery of the Missing Ming, the theft of a vase and its strange journey from "China" is unraveled. Book Three, Mystery Beneath Midville Museum, scheduled for publication July 2016, entangles our supernatural detectives in frightening spells from an ancient Egyptian mummy. McGee says, "I always do extensive research into each respective time period, and because I just happen to LOVE doing research, I often have a tendency to forget to start writing the story!" 
4. The Koolura Series by Michael Thal
Why you should read it? The author weaves educational elements in so sneakily that kids won't even realize they're learning as they're swept off in the adventure. Fast paced, with exotic locales and exciting adventures, this series make readers hope that Koolura never stops adventuring. It's a middle-grade series that parents can be absolutely confident will entertain and educate in equal measure.
Interesting Fact: The Legend of Koolura was originally written for the author's daughter, Channie, who refused to read when she was in the sixth grade. She promised to read the book once it was published. In 2012, when she was 28, Channie read the book and loved it.