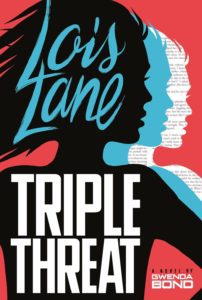 Lois Lane: Triple Threat is the third installment of the Lois Lane Series by Gwenda Bond. The first book in the series, Lois Lane: Fallout, introduces us to sixteen year-old Lois Lane starting a new life at a Metropolis high school. Her maybe-more-than-a-friend is met on line with the screen name SmallvilleGuy. Fallout is a wonderful mystery and should be read first before Lois Lane: Double Down. Now settled at her new school and working as a cub reporter for the Daily Planet, Lois' relationship with SmallvilleGuy is intensifying as she becomes embroiled in a dangerous mystery that brings Lois face-to-face with Metropolis' criminal element.
Third book in the Lois Lane Series is Triple Threat, which this reviewer feels is the best one yet. It introduces us to a Lois that has everything she has dreamed about—friends, a fantastic job, and her on-line honey is actually planning a trip to meet her in Metropolis.
But not all is perfect. Mutant teens are causing havoc throughout the city. One can run faster than lightning, another has super strength, a third can fly, and a fourth has the power to produce incredible energy with her eyes. Editor Perry White has assigned Lois' team to get the scoop.
However, Lois' attention is diverted when SmallvilleGuy comes to town with his parents and introduces himself as Clark Kent.
As in all three of her books, Bond writes a relentless non-stop thriller that kept this reviewer turning pages until the novel's satisfying climax.
Gwenda Bond does an amazing job getting into the head of teenager Lois Lane. She shows her relationship with her parents, sister Lucy, friends, and especially interesting is her budding romance with the boy from Smallville, Kansas and their deepening bond.
Jerry Siegel and Joe Shuster created Superman 80 years ago. I'm sure if his creators read the Lois Series, I'm sure they would approve.
About the Author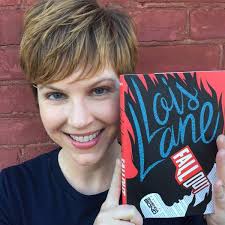 Gwenda Bond aspired to a MFA degree in writing from Vermont College of Fine Arts due to her childhood love of Lois Lane. Therefore, it's not surprising she created the Lois Lane series, which brings the iconic comic book character alive as a sixteen-year-old high school student with a passion for reporting. Bond has also penned the Cirque American series about daredevil heroines who discover magic and mystery lurking under the big top. The author lives in Lexington, Kentucky with her husband and unruly pets. You can visit her online at www.gwendabond.com.