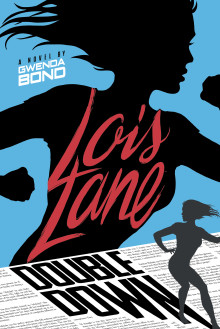 About Lois Lane: Double Down, Entertainment Weekly says," …it's basically Lois Lane in a Veronica Mars-esque plot, which sounds like all kinds of awesome."
And it is. In her second Lois Lane book, author Gwenda Bond has recreated Lois as a teenage cub reporter for the Daily Planet. Her editor, Perry White, pressures teen Scoop reporters for another story. (See my review of Lois Lane: Fallout, the first book in this series.)
Lois doesn't disappoint. Good friend James' dad, the former mayor of Metropolis, is out of prison, but confined to his home. Lois uncovers evidence that the former mayor was framed. Best friend Maddie's twin sister, Melody, is having weird visions connected to a stranger. Finally, SmallvilleGuy, a boy Lois knows only on line, is very upset about a flying man being spotted and perhaps investigated by the feds.
Gwenda Bond knows how teens think. Writing in the first person using Lois' voice, she pens a story where a boy's father finally returns home. Lois has a hard time making friends, and when she does, she wants to keep them. So she works overtime pulling estranged twin sisters back into the fold while she helps scrub Metropolis clean of corruption.
You won't plunk Double Down onto your nightstand. It's a perfect read for mystery lovers, romantics, and anyone loving a spunky protagonist.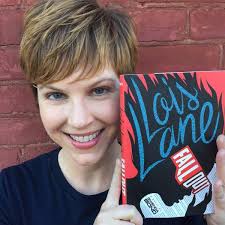 About the Author
Gwenda Bond was inspired to get a journalism degree due to her childhood fascination with Lois Lane. She has an MFA in Writing from the Vermont College of Fine Arts, and lives with husband Christopher Rowe in an old home in Lexington, Kentucky. You can visit her on her website at http://www.gwendabond.com.