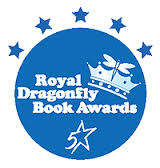 Cristy Bertini, Editor-in-Chief of Story Monsters Ink magazine recently announced the winners of the 2015 Royal Dragonfly Book Awards/Ebook Awards. In the Young Adult category Goodbye Tchaikovsky won Second Prize.
Linda F. Radke, president of Five Star Publications, the sponsor of the Dragonfly Book Awards says, "Winning any place in the Royal Dragonfly Contest is a huge honor because in order to maintain the integrity of the Dragonfly Book Awards, a minimum score is required before a First or Second Place or Honorable Mention will be awarded to the entrant – even if it is the sole entry in a category."
Radke continues, "Competition is steep, too, because there is no publication date limit as long as the book is still in print."

The Royal Dragonfly Book Awards is presented by Five Star Publications, a multi award-winning company with over 29 years of publishing expertise. The awards were conceived to award authors of all types of literature in 62 categories. The books are judged by experts in their respective fields.
The award categories include Autobiography/Memoir, Children's Chapter Books, Children's Picture Books, Fiction, General Nonfiction, Historical Fiction, Poetry, Travel, and more. 
Goodbye Tchaikovsky is about a violin virtuoso who is plunged into a deaf world, necessitating him to adapt to a new culture and language in order to survive.
David Rothman is an overnight success. He performs Tchaikovsky's Violin Concerto with rave reviews attracting the attention of the Queen of England. His future is laid out for him like a well-lit freeway. Then, on his twelfth birthday, David suffers from an irreparable hearing loss, plunging him into a silent world.
How will David communicate with his friends? What about school? Where does his future lie? The novel shows how an adolescent boy copes with deafness.
At the age of fifty-one I had a severe hearing loss taking me away from my job as a sixth grade teacher. From that experience, I was inspired to write this story. It shows by example how middle school and high school children can cope with adversity. If a person has a willingness to learn and an open mind to explore all possibilities, he can find a way to succeed.
Goodbye Tchaikovsky reviews are amazing. On Amazon 93% of the reviews are 5 stars. Here's what one reviewer, psychologist Dr. Robert Rich, had to say:
It's not often that a book aimed at "Young Adults" makes me want to cry. Michael Thal managed this with his story of David, a violin virtuoso who suddenly went profoundly deaf the day after his twelfth birthday.
Goodbye Tchaikovsky is excellent on many levels.
First, obviously, it is an introduction to what it is like to be deaf in a hearing world, presented so the young reader identifies with David's experiences on an emotional level.
Second, it is a primer on empathy. "What if that happened to me?" Michael's choice of hero is perfect. The underlying message is, "What if I lost the ability to do the activity that gives me meaning in life, joy and purpose?" A teenager with a passion for basketball might imagine what it would be like after breaking his neck, another who lives for computer games may think of blindness or a paralyzed hand…
Third, Michael deals with the issue of stigma and discrimination, showing that, whether you are Christian or Jewish, ethically Japanese or Caucasian, deaf or hearing, you deserve respect, compassion, decency, and love.
If you, or someone you care for, are struck by a handicap such as deafness, you can draw instruction and inspiration from this book. However, any teenager will enjoy reading about David's journey, and benefit from the underlying lessons within Goodbye Tchaikovsky.
You can order a copy of Goodbye Tchaikovsky in print at the following websites:
And as an e-book at: