Tyler Moore spent most of his early childhood in and out of hospitals. He had cystic fibrosis, a life-threatening hereditary disease causing thick mucus to build up in the lungs and digestive tract. But Tyler wouldn't let his disability stop him, so when he entered Harpers Ferry Junior High School he decided he would be on the school wrestling team. No matter how much his mother protested, Tyler insisted he would be as much like the other boys at school as he could. Though he never did become an undefeated champion, he did have a gift of leadership that would inspire his teammates and his community to become more than they had ever been before.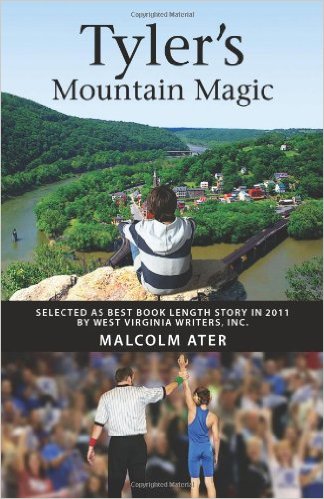 Malcolm Ater's novel, Tyler's Mountain Magic, tells the story of the Harpers Ferry Junior High wrestling team and the boy who led them to greatness. In the first person narrative, Ater takes his readers through three years of junior high in a West Virginia mountain community showing the trials and politics of a wrestling team.
There aren't very many books on the market that show the difficulties of a disabled youth. Through shear determination Tyler overcomes his challenges showing everyone around him that dreams can be attained through true grit. Tyler Moore sets the bar for all boys to aspire.
Tyler's Mountain Magic, based on a true story, is a novel teen boys and their parents should read as they laugh, cry and cheer for the Harpers Ferry Junior High wrestling team as it travels from the depths of defeat to the pinnacle of success.