Benchwarmers is a non-profit nascent organization with the mission to promote access to team sports for all kids by providing a nurturing environment where children who are less athletic can thrive and feel they belong. Benchwarmers' focus is on sportsmanship, education, and deliberate practice. 
A decade ago retired Teledyne engineer Joe Bock had a dream. His ambition was to help less athletic kids have an opportunity to enjoy basketball, improve their skills, and appreciate the sport, a chance Joe missed out on as a child. To really understand his new field, Bock enrolled in many kinesiology classes at California State University, Northridge. When he felt that he understood the science and psychology behind teaching sports to children, he promoted his Benchwarmers idea to Cheviot Hills Recreation Center in Los Angeles where he's been helping athletically challenged boys from 8-14 improve their basketball skills over the past ten years.
Encore.org is a non-profit movement tapping into the skills and experiences of people in midlife and beyond to improve communities and the world. Marc Freedman, Founder and CEO of Encore.org says, "We are a movement of millions of people who are using our passions, skills and decades of experience to make a difference in our communities and the world."
On August 7, 2017 Encore.org announced 15 semi-finalists for the Encore Prize: Generation to Generation Challenge, that will award a $50,000 prize to two winners with innovative ideas engaging people over 50 in improving the lives of vulnerable children and youth. One of those 15 semi-finalists was Benchwarmers.
The Encore Prize is funded by The John Templeton Foundation and the MetLife Foundation, and has the support of Aging2.0, IDEO, the MFA in Social Innovation at the School of Visual Arts, the Milken Center on the Future of Aging, the Stanford Center on Longevity and the Stanford Distinguished Careers Institute. 
"Millions of kids growing up in challenging circumstances need more caring adults in their lives," said Generation to Generation Campaign Director Eunice Lin Nichols. "The Encore Prize will invest in innovators who bring the generations together, delivering the strength of encore talent to vulnerable kids."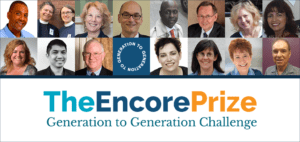 You can help Joe Bock and his Benchwarmers by going to The Encore Prize and vote for his Generation to Generation Challenge concept: supportive coaches age 50+ volunteering their guidance to kids who are not considered athletic and build their self-esteem through playing basketball.
You can vote once a day and every day through August 31, 2017 to help select five finalists who will have a chance to compete in person for the $50 K cash award to promote their program to the community. Click HERE and vote daily for Benchwarmers.