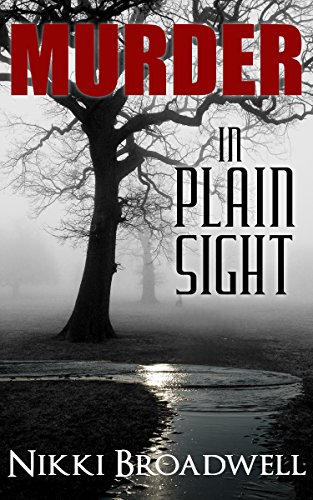 Summer McCloud runs a successful occult shop, Tarot and Tea, in peaceful small town Ames, Connecticut. The serenity of the village is suddenly broken when the body of a woman is discovered near a river, and the only clue to her murder is a book of poison recipes purchased at Tarot and Tea.
Summer soon learns that the dead woman, Serena Weatherby, was actually a friend of Lila's, Summer's mother who had disappeared five years ago and had been assumed dead. Summer's boyfriend, Jerry Brady, an Ames detective, lets her know that she is the number one suspect, so Summer goes underground to find the murderer and uncover if Serena's death is somehow connected to Lila's disappearance.
Murder in Plain Sight has paranormal elements to it. Summer has the power to see visions that helps the amateur sleuth piece bits of clues together as she helps Jerry solve the case before the murderer's next victim is she.
I did find a few of the plot twists confusing, especially when ghosts were introduced that appeared like normal people, even paying for items with money. I thought ghosts couldn't interact with humans in this way.
Be as it may, the novel is fast paced and a fun read.
About the Author
Nikki Broadwell grew up as an 'Army brat' living in several states as well as Germany during her formative years. She earned a B.A. in English and Art from Sonoma State University and later studied Marriage, Family, and Child Counseling. She has worked for a greeting card business, and painted on silk for two decades, but writing has been her first love. Magic, Tarot cards, ghosts, and astral projection are elements that captivate this author's mind and it shows in her writing.
Broadwell currently lives in Arizona with her husband, a cat, and a dog. In her spare time she enjoys yoga, hiking, gardening, and watching the birds and animal life that abound in her desert community.
You can check her blog http://jalapenosandjavelina.blogspot.com/ for tales of close encounters with rattlesnakes, coyotes and javelina!