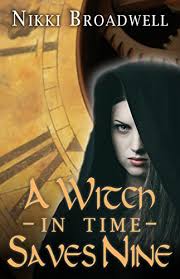 Netti hung from the hanging tree, her body limp and swinging. It's 1692 Salem, Massachusets with the infamous witch trials under way. Netti was a sweet and innocent young woman who wouldn't hurt a fly. Her crime: She knew how to turn herbs into oils. Neighbor Jonas Hale believed the girl was actually brewing potions for the devil and declared her a witch.
Emeline Chase bore witness to this injustice and Puritan plans to rid Salem of all who did not fit their profile of obedience. She's also a 21st Century high school student working on a report about the Salem Witch Trials. Since Em is a witch herself, what better way to write a history paper than to travel back in time to witness events first-hand?
What Emeline doesn't suspect is her affect on the timeline, finding her "deceased" grandmother, and meeting a Wampanoag boy that turns her legs into jelly.
Author Nikki Broadwell does an excellent job taking her reader through the centuries to actually feel the terror of living in 17th Century Salem.
As Em learns to control her powers she makes mistakes and enters into other time streams in alternate universes. The pace of A Witch in Time Saves Nine is fast and heart throbbing. Actual true historical events and people are expertly woven into a story that will motivate YA readers to explore further this sad chapter in American History.
About the Author
Nikki Broadwell grew up in several different states and Germany as an 'Army brat'. She earned a BA in English and Art from Sonoma State University in California. While her children grew up she used her creative talent to make greeting cards and wall hangings of flowers, birds, and animals. Broadwell is the author of over a dozen novels and currently lives with her husband in Tucson, Arizona. When she's not writing Nikki travels, does yoga, hikes, gardens, and watches the abundance of desert wildlife.