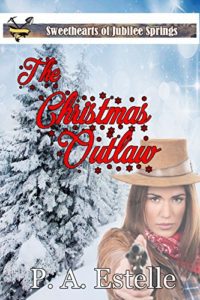 Sweethearts of Jubilee Springs is a series of books written by several different authors relating stories about the Arkansas Valley of central Colorado during the 19th century. The Christmas Outlaw by P.A. Estelle is one of the newest novellas to this series.
Charlene arrives in Jubilee Springs Colorado on the same train as a batch of mail order brides. Charlene isn't looking for a husband, just a new start in life. However, she eventually falls in love with the town sheriff, Jim Hawkins, and his six-year old daughter, Sally.
The couple decides to marry Christmas Eve, but problems arise forcing the sheriff to deliver Adam Jacobson, a wanted murderer to Pueblo, Colorado. To his chagrin, Charlene and Sally are missing upon his return and no one can find them due to the huge snowfall that covered their tracks.
P.A. Estelle has created a historical romance with danger and excitement that will keep the pages turning until the climatic dramatic Christmas surprise.
About the Author
P.A. Estelle has written many adult stories that include paranormal, historical romances, and family drama. She has also written picture books for the very young, and fantasy and time travel for older children. Estelle lives in Kingman, Arizona.