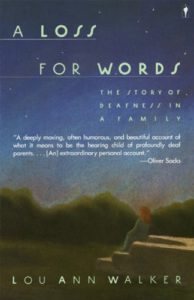 Author Lou Ann Walker's primary language is American Sign Language (ASL). Born to Deaf parents, it was her job to be the ears and voice for her family. Raised in Indiana during the early 1950s-60s, Walker eloquently writes about a loving family faced by an ignorant public to the problems inherent in deafness.
Over twenty-three years ago I awoke to a profound silence caused by a virus. I lost friends who lacked the patience to talk to me; I received disability from a profession that needed me to comprehend the questions and comments of my students; and a brother who couldn't be bothered repeating himself. So as I read Walker's book, I thoroughly comprehended the conflict she described.
I read A Los For Words: The Story of Deafness in a Family fully understanding the problems of deafness, but not from the perspective of a hearing child. As the oldest daughter of three girls, Walker acted as her parent's interpreter offering her readers a humorous account of crude and condescending behaviors of family as well as strangers to her parent's deafness.
Lou Ann Walker does an amazing job of describing ASL to her audience. She shows the beauty of a language that transcends sound using pictures and imagery created by the human hand.
The author writes from the heart telling about the frustrations and burdens of life with the deaf. Everything we do today depends on our ability to hear—movies, TV, concerts, a phone call, and even an intimate conversation. Just imagine what your life would be like if you woke up one morning deaf. What would you do?
As I read A Loss for Words I cried from the heart, for I understand completely the humiliation and frustration Walker's parents felt as they tried to survive in a hearing world. Without the connection of family and loved ones, the deaf live a very lonely life disconnected from society. One of the best ways to reconnect is to learn ASL, an idea promoted in the author's memoir.
A Loss for Words is highly recommended to anyone with hearing loss and their families so they can begin to truly understand the difficulties of this hidden and silent disability.
About the Author  
Lou Ann Walker is a writer, editor and professor. A Loss for Words won a Christopher Award. Walker has written for The New York Times, The New York Times Magazine, O, The Oprah Magazine, Allure, Esquire, The Chicago Sun-Times, Parade, as well as for many other magazines and newspapers. She has served on advisory boards at the Theatre Development Fund and the Museum of Modern Art. Formerly an editor at Esquire and New York, she is a professor in the MFA in Creative Writing and Literature program at Stony Brook Southampton. Walker is Editor-in-Chief of TSR: The Southampton Review, a literary and arts journal.