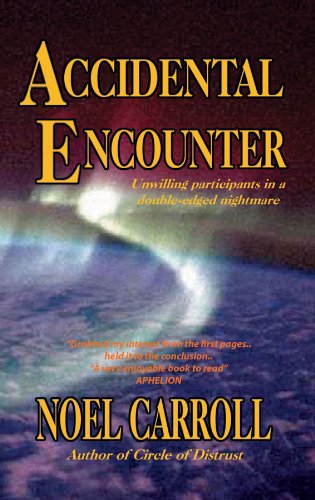 Mark Carter's attitude has been "on the low side of pathetic." He's felt listless, out of touch, and even depressed. To the chagrin of his girlfriend, Kathy Montari, Mark decides to explore the Wyoming wilderness to find himself.
Mark begins his trek in Kelly, Wyoming. There he hears about conflicting survival advice in the woods and a local mystery regarding the appearance of numerous German shepherds. These dogs are all the same color, well mannered, and can vanish through locked doors.
After Mark is gone for a while, Kathy takes an interest in the dogs. As a reporter, she finds the German shepherds to be a fascinating human-interest story. So she heads to Kelly for the scoop. More importantly, she wants to be in Wyoming when Mark returns to civilization.
Unbeknownst to Kathy, Mark may never come home. He inadvertently got lost, followed one of the dogs, Spot, through a space warp and onto the alien's home planet, Mantz.
The writing team of Noel Carroll has produced a thought-provoking novel about man's first encounter with an advanced species of intelligent life. Mark develops a close relationship with Spot, whose real name is Creson, a creature that can change his form at will. Creson's and Mark's thought-waved banter is often funny as these two men from different worlds get to know each other. From Creson, we discover the Mantzites have learned to use the full capacity of their brains, and they end up teaching their reluctant visitor a few tricks he wasn't intended to learn.
Unlike many science fiction first encounters, the Mantzites are not looking to invade Earth and rid our planet of its human scourge. On the contrary, they just want to help. However, they need to know us better, and if Mark returns home, their cover would be compromised. Consequently, Mark Carter is expendable.
Accidental Encounter is written in the third person omniscient point of view. The authors delve into the minds of their characters, occasionally to the extreme, slowing the plot. However, the exciting twists and turns the book takes makes this science fiction novel a fascinating read.
About the Authors
NOEL CARROLL is a husband and wife writing team. After a successful career in business, followed by a dozen years of sailing, they directed their energies toward co-authoring stories. Their published works (under the pen names N. C. MUNSON and JOHN BARR) include novels, short stories, satiric essays and opinion editorials.
Pop's Rating: