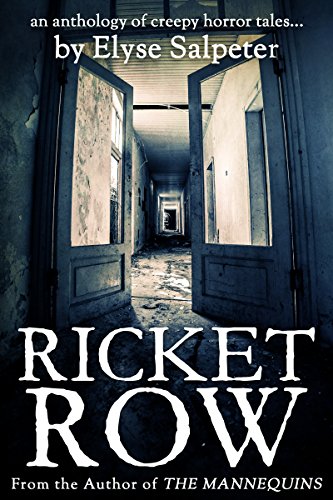 Ricket Row is an anthology of creepy horror tales by Elyse Salpeter, the author of The Mannequins.
 A few of the short stories read more like outlines while others were well developed short stories with satisfying endings. Many of the stories included zombies, vampires, and ghosts—welcomed fare for creepy tales of horror.
"Mrs. O'Malley's Children" was my favorite. Mrs. O'Malley ran an orphanage for disadvantaged and disabled children. When the Zombie Apocalypse finally occurred, Mrs. O'Malley's estate was the only refuge capable of protecting and maintaining human life. Salpeter does an amazing job developing realistic characters and a plot that kept this reader riveted.
"Awake" tells the quick story of a traffic accident victim filled with recreational drugs awake for his own operation, but the doctor believes he's asleep. Imagine that horror!
"Mr. Wong's Amazing Wok" will make you think twice about eating Chinese cuisine or about your relationship with your spouse. Husband Jack frequently brings his wife of six months to his favorite restaurant, Mr. Wong's, for Chinese food. Jack has a history of having wives die of cancer. Perhaps his deceased spouses should have first tested Mr. Wong's food in a lab?
"Find Me on Ricket Row," is the perfect tale to tell teens over a campfire to ensure they have a restless sleep. And "Tragedy at Sea" is a Titanic tale whose main character is a vampire.
"Clown" should have been fleshed out more to make this potentially creepy story into a nail biter.
It's true to say different readers will have varying opinions about Ricket Row. However, they'll all agree that most of the stories grabbed their attention and wouldn't let go.
About the Author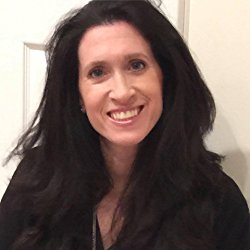 Elyse Salpeter loves to mix "the real with the fantastic" in her books. She takes different scenarios and creates worlds where things just aren't what they appear to be.
Her YA novels, Flying to the Light and Flying to the Fire are about a young deaf boy who knows what happens to you when you die and now people are after him for the answers.
Salpeter's horror novel, The Mannequins, tends to be creepy, like Ricket Row. This one is about a film crew that enters an abandoned mansion and disappears.
When she's not writing, Elyse's cooking, jogging, running around with her twins and eating shock food in her Gastronaut Club. You can learn more about her at her webpage at www.elysesalpeter.com or her blog at www.elysesalpeter.wordpress.com,