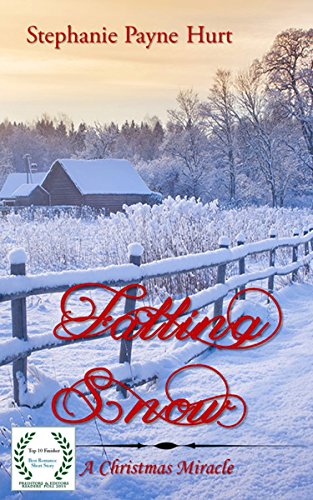 Katie and husband Dane built a beautiful bread & breakfast establishment in the Virginia Mountains named the Gingerbread House. Unfortunately, Dane contracted cancer and passed away, but Katie keeps their dream alive with booked guests, an upbeat personality, excellent meals, and a tidy home.
One day, just before Christmas, business tycoon Noah Kent shows up annoyed because he missed his flight and has to stay in a shack far from city lights because no other room is available in the area.
Katie is a true Christmas cheerleader while Noah is a self-admitted Scrooge. Dane's best friend, Craig Norton, is also on the scene keeping an eye out for Katie's welfare and his hidden desire for his best friend's wife.
Stephanie Payne Hurt writes a beautiful love story set in Virginia's Appalachian Mountains. The author knows how to pen a tale that will strum away at readers' heartstrings, so pack a few tissues for self-protection.
Though the plot is pretty obvious, the emotions stirred up in Falling Snow: A Christmas Miracle will keep readers enthralled as they read this quick-read novella.
About the Author
Stephanie Payne Hurt, a Children's Minister, Accountant, wife, and mother has been writing stories since she was a teenager. Her first published work appeared in 2012. Hurt's preferred genre is romance and since her debut has published 25 Romance novels/novellas.