Summertime is that special time of year when we can lay out on the beach, absorb some rays, and catch up on our reading wish list. Below you'll find the six best YA books Pop read this past year and figures you'd enjoy it, too.
Author: Elyse Salpeter
Kindle Edition: $2.99
Paperback: $12.99
Pop's Rating: 5 pops
Michael is a 17-year-old high school student whose only worries are tests, girls, and playing with his 6-year-old deaf brother, Danny. All of that changes when his parents are kidnapped and he and Danny must run for their lives when they are accused of being spies and murderers.
Flying to the Light is a fantasy about a young boy with a power that could become the gateway between Earth and Heaven. And there is one man who will stop at nothing to gain access to Danny's strange gift.
Samuel Herrington is a crazy corrupt biophysicist who once tried to buy his way into NATO. The billionaire intimidates nations with his secret laboratories where he has developed enough bio-chemicals to bring down the entire human race. This is the man that has kidnapped Michael and Danny's parents and will stop at nothing to get his hands on Danny.
Salpeter's exciting plot, well developed characters, and descriptive scenes makes Flying to the Light a book YA readers will have trouble breaking away from.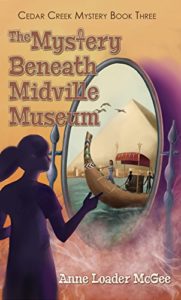 The Mystery Beneath Midville Museum 
Author: Anne Loader McGee
Kindle Edition: $2.99
Paperback: $7.21
Pop's Rating: 5 Pops
…a statue that moves…a restless mummy…a talking scarab. Strange things happen after the arrival of an ancient Egyptian exhibit from Cairo. The Mystery Beneath Midville Museum with its non-stop action and paranormal intrigue is a 'must read' for all lovers of mystery. Highly recommended.
Author: Debra Easterling
Kindle Edition: $.99
Pop's Rating: 5 pops
Debra Easterling writes a compelling novel of self-discovery with reluctant characters thrust into a wilderness trek they were forced by their employer to take. The author expertly describes in vivid mental pictures breathtaking scenes of Superior National Forest.
Easterling tells her story through the eyes of Michael, an executive with a promising future at Alexander and Levy. Michael is looking forward to the trip as much as he enjoyed fighting the flu he contracted during early morning workouts on the company roof.
Boundary Waters is a character driven novel that will keep readers riveted to its pages from first to last page until the shocking climax. This is one book readers won't want to miss.
Author: Michael Thal (Aka Pop)
Kindle Edition: $2.99
Paperback: $13.99
Reader's Favorite: 5 Stars
Koolura and the Mayans by Michael Thal is the third book in the Koolura series, an exciting story that will take readers on a historic ride back into the old Maya civilization. Koolura and her friend, Leila, are just two young teens visiting Mexico. They stumble on a device that allows them to travel back in time. They are thrust into an early Maya civilization, whose people are enslaved by the Aquari. The people hope for a goddess who could set them free. Could Koolura be this goddess?
Although Koolura and the Mayans is written for a pre-teen audience, it was fun to read as an adult. Michael Thal's characters are awesome and I enjoyed Koolura and Leila, two girls who are smart and very ingenious. They make a great team. Readers will enjoy watching them evolve through the story. The author seems to create a whole new culture around the Maya and the story feels so real, reading about the people and the challenges they face. At the level of style, this book is beautifully accomplished. First off, the reader will notice the gorgeous accessible writing, composed of short and easy-to-understand sentences. The writing also features great descriptions of characters and setting. The descriptive prose creates powerful images in the minds of readers. I enjoyed the well-crafted dialogues, which make the characters come to life. Readers will love the adventure, the drama, the conflict, and the entertaining nature of this story. I enjoyed it!
Review written by Arya Fomonyuy
Author: Michelle Madow
Kindle Edition: $2.99
Paperback: $9.99
Pop's Rating: 5 pops
The last day of spring break Anna (aka Annabelle) and younger brother Eric have the opportunity to go out for dinner with their parents. Eric wants Italian and Anna craves sushi. Mom tosses a coin, Anna picks heads, and pizza wins. Lucky for them! The following morning the news reported an outbreak of food poisoning at the Japanese restaurant.
Or were they lucky? If Anna had called tails instead, her mother would have eaten sushi and had been too sick to go to the hospital where she worked as a doctor. She would have avoided being struck by a truck driver that ran a red light and killed her instantly. And Anna's life wouldn't have crumbled.
Unfortunately, Anna couldn't change her past and she's trying to survive without her mother in her present. Six months later she's finally bouncing back and excited about the upcoming Halloween dance at school and her date with boyfriend Jake. However, at the party, when the couple is dancing the first slow dance of the evening, a shot rings out in the gym causing panic. Anna's dress turns crimson as Jake keels over in her arms. Another shot rams into Anna's skull and all goes dark.
When Anna wakes up she soon realizes she's reliving the week before the Halloween Dance providing her the opportunity to save Jake's life. In this parallel universe Anna goes by the name of Annabelle and her mother ate sushi.
Michelle Madow creates a very exciting time travel YA love story through the eyes of Anna/Annabelle. The attractive teenager tries to convince her friends in this new universe who she really is and the dangers they face.
The plot of Madow's novel, Collide, and her efforts at character development are extremely creative as Anna expertly works her friends in believing her story. But will her efforts be in vain to stop the unknown assassin?
Author: Dr. Bob Rich
Kindle Edition: $3.78
Paperback: $15.00
Pop's Rating: 5 Pops
Guardian Angel by Dr. Bob Rich is set during the mid 19th Century in rural Australia. An angel is assigned to live amongst the humans in an Aboriginal community in New South Wales. Her soul was planted in the body of a girl whose Aboriginal mother was raped by an Australian settler. Her mission is to teach universal love. She chose a female body because, "I have always favored being the life form that bears new life." After this introduction we read about "the life of Maraglindi, child of the land, fruit of an evil deed, and instrument of love."
Maraglindi is a Jesus figure without the preaching. Her ministry is simply showing love and passing on her affection for others through the power of her touch. Starting life off as Mick and Glindi's baby, she has green eyes—white man eyes—but Mick does not blame his wife. Glindi would prefer her husband kill the rapist, but wiser voices prevail. "If you do and they find out it's one of the people, they'll do terrible payback."
When Maraglindi was still a toddler, Bruce MacCaffery, the nicest white man in New South Wales, hired her parents. Mick's job was to tame horses and Glindi would work in Mrs. Mac's home as a servant. Eventually, Mrs. Mac discovers Maraglindi's intelligence and goodness and takes the child under her wing calling her Mary Fisher. When Mary became school age, Mrs. Mac enrolls her in Talbot Ladies' College where Maraglindi learns very quickly about racial prejudice and hatred.
Dr. Bob Rich has created an extremely memorable character in his guardian angel, Maraglindi. The little Aboriginal child affects everyone she meets. Take the boy Gerald, who commits a heinous crime with his buddies and almost died from food poisoning. Once recovered, Gerald Kline grew up to become an Anglican preacher dedicating his life to the Lord and helping the Aborigines.
Guardian Angel is a sad, but inspirational story that will leave readers with a strong sense of hope and a feeling that life has endless possibilities.
There you have it, six of Pop's favorite 2017 books that will while the way the hours this summer as you enjoy your vacation reading fun YA novels. Happy summer reading!